Translucent Roller Blinds
With Translucent Roller Blinds Privacy, you can create a private, pleasant atmosphere without obstructing natural light. These materials are meant to let in natural light while limiting glare and external visibility.
Translucent Roller Blinds provide 100% daytime privacy while decreasing heat and glare without blocking out natural light.
Read More

Translucent Roller Blinds are semi-transparent. Rather, they provide an opaque shade that lets light in. This doesn't hinder the correct quantity of light from entering your room.
Translucent Roller Blinds are meant to let in light while maintaining a consistent and clear appearance. Roller blinds are sophisticated in appearance and provide color, shade, and privacy. Translucent Roller Blinds let in light while keeping daytime seclusion. Translucent Roller Blinds are also known as Light Filtering Roller Blinds because the fabric allows light to pass through while retaining privacy.

Sorrento Translucent

Impulse Light Filter

Classic Translucent

Avalon Translucent
Blockout Roller Blinds form the best barrier against light and help maintain the desired room temperature during any season. These blinds are custom-made from thick, stylish fabric designed to keep your environment cooler during the summer and retain warmth during the winter —and can even help reduce your energy bills.
Blockout Roller Blinds are a popular choice for bedrooms, offices, and any room where you wish to have the option of a fully darkened environment at any time.
Blockout Roller Blinds are designed to withstand the harsh elements of the Australian climate. All our products which include Blockout are designed and produced to give our clients the comfort of knowing that we do not compromise on the style and durability of QualityBlinds products
The Blockout Roller Blind is a high-quality blind made out of a coated fabric that blocks out 100 percent of sunlight. Custom Roller Blinds are created with your measurements in mind, making it a perfect choice for large living rooms or business windows that need to maintain darkness during the day.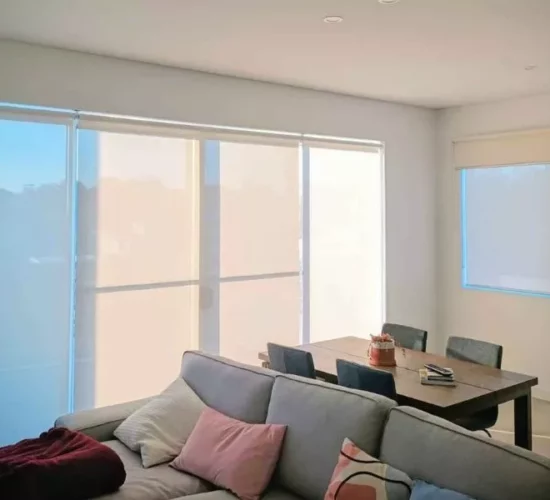 Sunscreen Roller Blinds are designed to prevent glare and heat from disturbing your view and making your room uncomfortably warm. They also reduce the UV light entering an area and help prevent furniture fading and discoloration.
Our custom-made Sunscreen Blinds offer great privacy during the day but are revealing during the night with an illuminated background, so we recommend that they mainly be used where privacy is not needed or in combination with a Blockout Blind as part of a Double Roller Blind for optimal leisure and privacy.
Sunscreen Roller Blinds come with a wide range of sunscreen fabrics and colours to choose from and are sure to look sensational in any environment.
Sunscreen Roller Blinds are a mesh-type fabric that you'll be able to use to prevent the glare and UV radiation entering your home and damaging your furniture and floors. These blinds are perfect for the harsh Australian climate, keeping your home cool and saving on your energy bills.
Translucent Roller Blinds, also known as Privacy Blinds, allow you to create a private, comfortable environment without blocking natural light from entering the room. These fabrics are lightweight and effective and are designed to permit natural light while reducing glare and eliminating visibility from the outside.
Perfect for living areas and rooms that require 100% daytime privacy, such as the bathroom, Translucent Roller Blinds offer a high level of privacy while reducing the sun's heat and glare — without losing that lovely natural light.
Translucent Roller Blinds are not entirely see-through. Rather, they present a sort of opaque shade that allows light to filter through. This doesn't stop the right amount of light to come through and fill your room with natural sunlight.
Translucent Roller Blinds are designed to allow permissible light while giving a uniform and clear appearance and it makes an elegant look. Roller blinds are Sophisticated in looking and providing a combination of color and shading and privacy. Translucent Roller Blinds are good for allowing visible light to enter a room, while still maintaining daytime privacy. Translucent Roller Blinds are commercially termed as Light Filtering Roller Blinds in the industry as the fabric on the blind allows 'light to filter through the roller blind while maintaining privacy.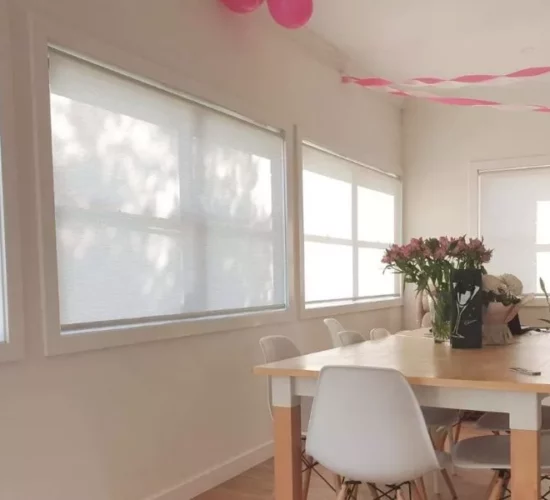 Have A look at these also