Louvres
Quality Blinds' louvres meet a range of ventilation, shading and aesthetic needs. Various slat sizes.
Any window having louvres, whether made of glass or not, is referred to as a "louvred window". When a louvred door is closed, a piece of it is open to allow air in. Closet doors may have louvres. A louvred ceiling's louvres obscure or conceal light sources.
Airflow or light penetration control louvre or Louvre, a parallel, horizontal blade configuration; a set of laths, slats, or other materials; a louvre or Louvre. In order to let fresh air and light into a room while keeping heat and moisture out, shutters are often utilised in windows and doors. Either they can move or they can't. As a mediaeval European building's ventilation system evolved, the term "louvre" came to refer to a turret or dome-like lantern on its roof that was used to close the openings against the elements. In certain ventilation and air-conditioning systems, the original usage of louvres is still in use as a cover for the intake and exhaust system.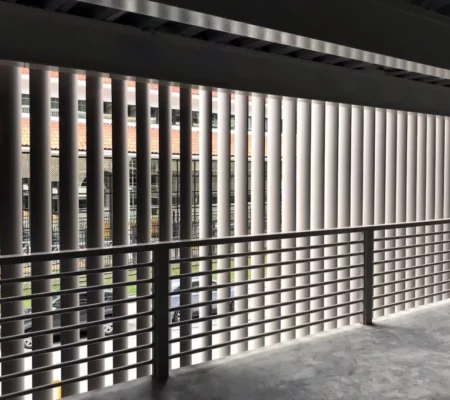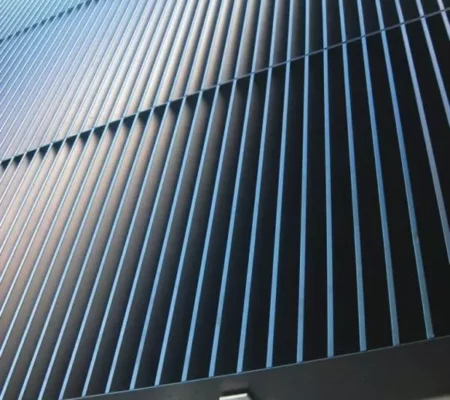 Most buildings have louver systems in place to improve air intake and exhaust while also protecting against rain and noise intrusion.
However, louvers have many uses for both engineers and architects.
To cover unsightly equipment or to provide an attractive architectural element to the façade, they may be utilized as a simple yet efficient screening solution.
Drainable, non-drainable, wind-driven rain-resistant, combination, thin-line, acoustically rated, adjustable, and even extreme-weather-resistant louvers may be used with louvers in various performance kinds.