Sheer Curtains
Sheer White Curtains are a top seller at Marlow & Finch! Many clients now want sheer curtains for their windows to give a trendy and gentler image. Sheer materials are attractive and useful, allowing for daytime solitude. They soften most areas, provide seclusion and coziness, and are the ideal complement to new or existing roller blinds or block-out curtains.
Read More

Lightweight sheer white curtains soften the lighting in your house and instantly add flair to your décor. Sheer curtains provide seclusion but also work well as part of layered window treatment.
Quality Blinds Sheer Curtains are a terrific way to improve your space without overwhelming the intended appearance and feel of a place. You'll love sheer curtains' advantages and adaptability.
Less during the day and less at night. When the sun sets and the home lights come on, Sheer Curtains might entirely expose you to strangers. They let in just enough light and are sturdy enough to provide some seclusion.
Sheer curtains, also known as sheers are lightweight fabrics that cover over your windows, soften your home's lighting, and add an instant infusion of style into your interior decor. Sheer curtains give you a measure of privacy but are also well-matched for a layered window treatment.
Whether you're feeling crafty, adventurous, or simply want to refresh your home, Sheer Curtains are a great way to enhance your space without overpowering the intended look and feel of a room. You'll appreciate the benefits and versatility of sheer curtains.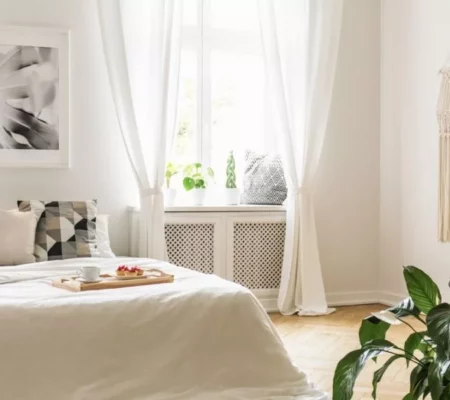 Sheer Curtains offer little during the day and almost none at night. The moment the sun goes down and lights come on inside the house, Sheer Curtains can completely expose you to outsiders. They allow just enough light to pass through and are strong enough to offer some semblance of privacy.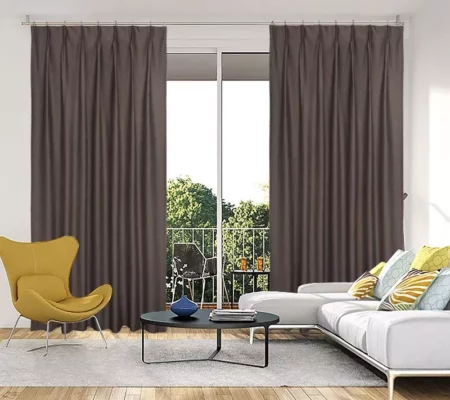 Blockout Curtains are designed to provide some thermal properties to your home. This means they will keep the warmth in the house during winter by providing a barrier between the colder outside and the warmer inside preventing heat transfer. The opposite applies during the summer
Blockout Curtains and shades will reduce the amount of heat that is transferred via your windows by as much as 24 percent, keeping the rooms where they've installed cooler in summer and warmer in winter. This will allow you to use your heating and cooling system more efficiently and save energy.
Quality Blinds Blockout Curtains are made using a special 3 weave technology that blocks harmful UV rays and 99% of the harsh sunlight from entering your room.
Sheer blockout curtains are a great addition to your home. They add a touch of style and comfort. These curtains not only enhance the look of your room but also provide the right amount of privacy. The morning sunlight filters softly through them, creating a beautiful, airy feel in the room. Upgrade your space with these elegant curtains for a superior home decor experience.
With sheer curtains, you can create a serene and inviting atmosphere that seamlessly blends with your existing decor. The versatility of ready-made sheer curtains allows you to play with light and enhance the beauty of your space. Whether you opt for a custom sheer curtain or ready-made options, the sheer curtain's delicate and ethereal nature will bring a touch of elegance and sophistication to your home.
The Beauty of Sheer Curtains
Sheer curtains, in their ethereal elegance, are akin to a ballet dancer, graceful and delicate, yet making a powerful impact. They are the quiet heroes of the modern interior design world, often overlooked but holding the power to transform a space from ordinary to extraordinary at night. Their lightweight, gauzy fabric dances in the gentlest breeze, creating a soothing, calming effect.
But it's not just about the aesthetics; it's about the experience too. Sheer curtains let in a soft, filtered light that imbues your room with a warm, inviting glow. Imagine sitting in your living or dining room now, bathed in this gentle natural light now, enjoying a good book or a quiet moment of reflection. It's the kind of simple, everyday luxury that brings joy and serenity into our lives.
The versatility of Linen Sheer Curtains
One of the greatest strengths of sheer curtains is their versatility. Whether your home style is modern chic, traditional elegance, or anything in between, there's a place for sheer curtains. In a minimalist setting, sheer blockout curtains provide privacy and texture they add texture and depth without overwhelming the space. In a maximalist environment, the sheer curtain can provide a delicate counterpoint to the boldness around them.
Furthermore, white sheer curtains online aren't a solitary act; they love company. Pair them with heavier drapes for a traditional, layered look, or match them with Roman or roller blinds for a chic, modern feel. The combinations are endless, and the result is always a unique expression of your personal style.
Our Selection of Sheer Curtains fit for Natural light
At Quality Blinds, we believe that every home deserves the perfect window treatment. That's why we offer an extensive range of sheer blockout curtains online in a variety of styles, colors, and fabrics. We're all about choices because we understand that every home is unique.
From classic white sheers that impart a timeless elegance to vibrant, patterned options that make a bold statement, we have something for everyone. We even offer customization options for those who have a specific vision in mind. It's all part of our commitment to providing the highest quality products and service to our customers.
Choosing the Right Sheer Curtain
How do you decide which sheer curtain is best for your home when there are so many to pick from? It's similar to picking out an outfit: you need to think about the event, the location, and your own sense of style.
Consider the room's color scheme and decor. Do you want the colors of your curtains to blend in or stand out? Next, think about the fabric. Light, airy voile is perfect for a casual, breezy vibe, while something like organza lends a more formal, sophisticated touch. Finally, consider the room's location. East-facing rooms might need thicker sheers to filter the strong morning light, while a north-facing room could benefit from the lightest, most translucent options.
Care and Maintenance of Semi Sheer Curtains
Just like a beloved garment, your sheer curtains need a bit of TLC to keep them looking their best. Most sheers, including semi-sheer curtains and linen sheer curtains, are machine washable, but always check the care label first. Use a gentle cycle and mild detergent, and avoid any harsh chemicals that could damage the fabric.
If you want sheer curtains to enhance the natural light in your space, custom sheer curtains provide privacy and can be a great choice. Unlike most curtains, they also feature light control allowing the sunlight to filter through, creating a soft and inviting ambiance. Consider investing in custom sheer curtains to add a touch of elegance and functionality to your windows.
And remember, at Quality Blinds, we're always here to help. From professional installation of ready-made sheer curtains and curtain rods to after-sales support, we've got your back. Our team is dedicated to ensuring that your white sheer and rod, along with other options like blackout curtains, are tailored to your specific needs and preferences.
We understand the importance of sheer fabrics in creating an inviting and light-filled atmosphere in your home. Count on us to provide the expertise and assistance you need to make the most of your window treatments. Your satisfaction is our priority, and we're committed to ensuring that your custom sheer curtain experience is nothing short of exceptional.
Final Verdict
So there you have it – the world of sheer curtains, full of elegance, versatility, and endless design possibilities. Whether you're looking to add a touch of sophistication to your living room, create a serene retreat in your bedroom, or brighten up your kitchen, sheer curtains are an excellent choice.
But don't just take our word for it, shop around. Experience the magic of sheer curtains for yourself. Visit the Quality Blinds website today, explore our extensive selection, shop around and request a quote for your dream window treatment. Who knows? Your perfect sheer curtains could be just a click away.
So, are you ready to elevate your space and let the light in? After all, every room deserves its moment to shine.
Remember, the world of interior design is all about expressing your unique style, and your windows should be no exception. So don't wait. Step into the world of sheer curtains and discover how they can transform your space today. The beauty, elegance, texture, and charm of sheer curtains await you at Quality Blinds. Let us help you with sheer curtains online to make living rooms in your home not just another living space, but a testament to your unique taste and style.
And who knows? Maybe your next favorite morning ritual will be watching the sunrise through the window sill your new sheer curtains, a cup of coffee in hand, and the promise of a new day ahead. It's more than just a sheer curtain now – it's a very serious sheer curtain lifestyle. Embrace the sheer curtain lifestyle today with Quality Blinds.
Frequently Asked Questions
What are sheer curtains?
Sheer curtains are lightweight window coverings made of light fabric, available in various styles such as pencil pleats or rod pockets. They infuse a sense of style into your interior décor and soften the lighting in your space. Sheer curtains not only add beauty but also offer practical benefits such as temperature control, allowing natural light to filter through while reducing the intensity of direct sunlight. With the ability to strike a balance between privacy and openness, sheer curtains provide the desired look for any room in your house. Whether you prefer a romantic and flowing aesthetic or a more tailored and structured appearance, sheer curtains can be customized to achieve your desired ambiance.
What are the benefits of sheer curtains?
Sheer curtains have many benefits, such as:
They allow natural light to filter through, creating a bright and airy atmosphere.
They add elegance and sophistication to your space, especially when layered with other curtains or drapes.
They can be used to create different looks and moods, such as romantic, cozy, or modern.
They are versatile and easy to care for; they come in a variety of colors and patterns and are ideal window dressings for any business premises or home.
How do you style sheer curtains?
Styling sheer curtains is easy; you only need to choose a lovely fabric and a color that suits your style. Here are some tips on how to style sheer curtains and make the most out of them:
Choose the right curtain rod that matches your décor and supports the weight of your curtains.
Layer your curtains correctly to create depth and contrast. You can use sheer curtains as the inner layer and solid curtains as the outer layer, or vice versa. You can also mix and match different colors and textures of sheer curtains for a more dynamic look.
Add some sophistication by creating a window scarf. A window scarf is a long piece of fabric that is draped over the curtain rod in a decorative way. You can use sheer fabric for a window scarf to add some flair to your window treatment.
Use sheer curtains to liven up your bedroom and entryway. You can use sheer curtains as a canopy over your bed or as a divider between your bedroom and living room. You can also use sheer curtains to create a welcoming and inviting entryway for your guests.
How do you clean sheer curtains?
Sheers are made of lightweight fabric, making them easy to care for and clean them. For ready-made sheer curtains, it is advisable to follow the manufacturer's instructions to clean them. If you are making them, enquire about the specific cleaning instructions of your preferred fabric. Some fabrics tend to shrink when washed and they should therefore be dry-cleaned. Sheer curtains should be cleaned frequently to keep them from discoloring. You can choose to hand wash sheer curtains or machine wash on a gentle cycle. To get rid of wrinkles, you can iron them on low heat or steam them lightly.
Have A look at these also